We are a passionate family to love Karate.
We firmly believe that Karate helps to have a better society and better individuals.
For our outstanding job and dedication on the national and international field we were invited to come to Australia by the Australian Karate
Federation in order to teach our Karate-Do style.
We put all our passion and all our knowledge on our students. 
We hope to see you soon at our karate school.
You will feel welcome.
Our organisation, present in 11 countries; Australia, Austria, Argentina, Brazil, Canada, Chile, Japan, Mexico, Italy, USA, and Spain. For more than 60 years long, our organisation, SHUDOKAN KARATE-DO, has had the objective of promoting the serious study and practice of Karate-Do. Our academy in Adelaide, Australia is running by instructors who have a high level of academic and technical knowledge.
Our style delegate Mr. Genaro Maya started in karate in 1970, 50 years ago,  Our International Technical adviser Mrs. Helena Koch started in karate in 1979, 40 years ago, she has been Mexican National Champion and a very outstanding competitor, Member of the WKF Referee Commission and more recently active introductor of the Shudokan Style Katas in the WKF.   Mr. Carlos Maya-Koch has been Mexican and Australian National Champion, member of Australian and Mexican National Teams, the only Athlete in our style Champion of two continents and more recently he has been ranked in 27th place by the World Karate Federation.
Ms. Liliana Maya has been practiced for more than 23 years. She has been member of the Mexican Karate team, International Champion in many events in Kata and Kumite.
Our World technical advisor is one of the most respected and recognized teachers within the Karate field; Augusto Gonzalez. He has written "Keiko" and "A la Sombra del Karate de Shuri". Two referrals for anyone involved in the history and technique of our discipline no matter which style they practice.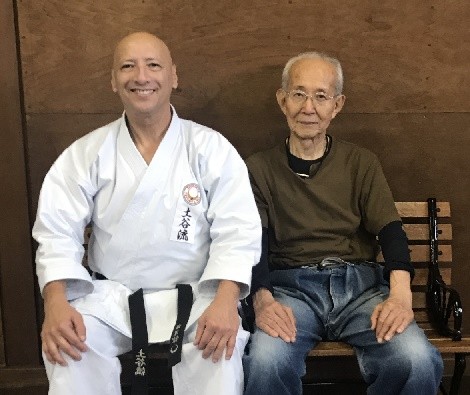 Sensei Genaro Maya 8° Dan 
Sensei Hideo Tsuchiya 9° Dan
Odawara, Japan 2017.
Maya Karate Academy 
Started with Sensei Genaro
Maya´s vision. He started
practicing Karate Do in
November 1970. 3 years later
He started to teach Karate 
as a Sempai (advanced 
student) in his Sensei's Dojo.
"Karate became part of my life; my love and my passion for Karate led me to set up my own Dojo at 1973 I wanted to share my vision of Karate-Do with more people" (Sensei Genaro Maya)
Ten years ago approximately
the Australian Karate
Federation invited us to
come to this beautiful
country in order to teach our
karate style. In 2015 we
decided to come to live in Australia.
Today we are working in
order to spread the karate
benefits with as many people
as possible and influence
communities with a positive
impact. Karate Do has
changed our lives as many
others who have had the
opportunity to incorporate it
in their life. Welcome to
Maya Karate Academy.
Book your free trial!
Please fill the form below and we will send you all the details and available times for your free trial. Enroll and you will receive a free uniform.
Or, if you prefer call us 0451 318 905